Lost in Space: Sezonul 1 - Episodul 6
(2018)
Not wanting to panic the others, John and Maureen quietly grapple with her discovery, but Penny overhears their conversation and is anxious to share her secret. Will learns a valuable lesson as he takes responsibility for the Robot's actions, and Judy (accompanies Don on a critical search for fuel that turns treacherous. Dr. Smith manipulates a vulnerable situation into one that could prove deadly....
Confirmaţi apăsând căsuţa "Nu sunt robot" pentru a vedea sursele video !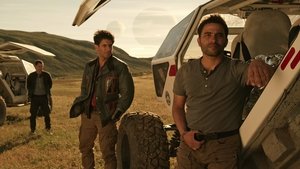 Urmatorul episod...
Sezonul: 1 Episodul: 7
Difuzat: 2018-04-13
Judy, and Don race home across the desert with their precious cargo, but an accident pressures them into making a life-changing decision. John and Mau...
Episodul urmator