Hannibal: Sezonul 3 - Episodul 7
(2013)
Captured in Italy by police on Mason Verger's payroll, Will Graham and Hannibal Lecter are delivered to Muskrat Farm to await Mason's revenge. Alana, distressed that Will has been endangered along with Hannibal, plots a rescue. And Hannibal, once again in contact with his old patient Margot, finds it irresistible to remind her that Mason will never make good on his promises. Meanwhile, Jack informs Chiyo of Hannibal's location....
Confirmaţi apăsând căsuţa "Nu sunt robot" pentru a vedea sursele video !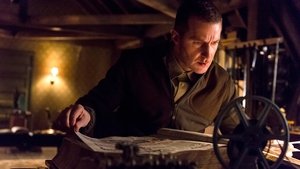 Urmatorul episod...
Sezonul: 3 Episodul: 8
Difuzat: 2015-07-23
Dr. Hannibal Lecter has been under lock and key for three years at the Baltimore State Hospital for the Criminally Insane, when a new villain arises i...
Episodul urmator