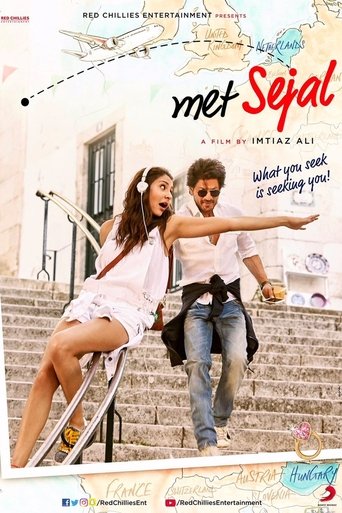 Jab Harry Met Sejal
(2017)
After a month-long tour of Europe, Sejal is just about to board her flight to India, when she realises that her engagement ring is lost. In quest of the object, she hires the same tour-guide Harry and together they set off visiting the exact same spots that she and her...
Vezi mai mult
Confirmaţi apăsând căsuţa "Nu sunt robot" pentru a vedea sursele video !
Titlu Jab Harry Met Sejal
Anul 2017
Genuri Comedie, Dragoste, Drama
Durata 144 min.
Status Released
Rating 5.6 din 13,175 voturi
Scenaristi Imtiaz Ali
Regizor Beata Neszmelyi, Imtiaz Ali, Krisztina Barkóczy
Distributie Aanjjan Srivastav, Anushka Sharma, Aru Krishansh Verma, Björn Freiberg, Chandan Roy Sanyal, Evelyn Sharma, Manjot Singh, Martavious Gayles, Sayani Gupta, Shah Rukh Khan
Descriere
After a month-long tour of Europe, Sejal is just about to board her flight to India, when she realises that her engagement ring is lost. In quest of the object, she hires the same tour-guide Harry and together they set off visiting the exact same spots that she and her family visited—in the hope of finding the heirloom. Of course the journey proves to be much more…
Shah Rukh Khan
Harinder Singh Nehra
Aru Krishansh Verma
Mayank